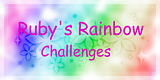 and it's the lovely Helen's time to choose a theme which is:
So lets see all your creations including an Animal.
Don't forget to check out the rest of the teamies makes.
Here's a card I made for my Brother in laws 40th birthday with his pride and joy Sasha. She's adorable and a rescue dog whom they've had for quite a few years.
Gosh it's so nice to be back blogging. Thanks for popping by.